South Asian Media and Cultural Studies Conference, March 2-3, 2017
Research in South Asian Media and Cultural Studies at FSU
Visiting Speakers, Guests, and Presentations
South Asian Media Studies at FSU: Overview
Contact:
Stephen D. McDowell, John H. Phipps Professor of Communication, and Associate Dean, College of Communication and Information, Florida State University, Tallahassee, Florida, U.S. 32306-2651
Phone: 850-644-2276
Email: steve.mcdowell @ cci.fsu.edu
Introduction:
The focus on South Asian Media Studies aims to promote research and training activities related to a burgeoning media industry in South Asia. Home to more than a billion people, South Asia enjoys unique cultural, religious, political, linguistic, and ethnic diversity that attracts the rest of the world. South Asian media reflects this diversity through its cultural products, which are becoming increasingly popular in other parts of the world. At the same time, South Asian media has remained an under-researched area in academic inquiry. The rapid growth of media industry in countries of this region demands establishment of a research and training emphasis that caters to the needs of a growing number of media education institutions and professional organizations in South Asia.
Purposes:
Promote academic and applied research on South Asian media
Explore the relationships between media and culture in South Asia
Explore relationship between media and social change in society
Develop a regional perspective on media studies
Focus on development and regional integration
Study comparative media performance
Build research linkages with professional and institutional partners in the region
Provide training to professionals and academics interested in South Asian regional media studies
Activities:
Research focuses on the following themes: media and conflict; journalism practice and performance, ICTs and development; popular culture; gender, minorities, and class in media; communication and social change; comparative communication and regulation policies, and; globalization and South Asian media. We will also build linkages at FSU and elsewhere to work on other important media research linked to media in the region, encourage exchange of graduate students and faculty, and seek opportunities to fund this research.
Instructional efforts include identifying and highlighting courses related to South Asian media studies at Florida State University, including faculty with interests in these areas, and highlighting programs across campus that may be of interest to students interested in South Asian studies. Training priorities are to develop workshops and seminars for professional journalists, as well as career development avenues for other communication professionals.
Service includes organizing lecture series, hosting visiting scholars, and connecting with student groups on campus, academic departments, as well as the FSU Center for Global Engagement, to publicize events, visiting speakers, and opportunities for linkages.
South Asian Media and Cultural Studies Conference
March 2-3, 2017
Center for Global and Multicultural Engagement
Florida State University
South Asia attracts much attention, both for its history and culture, but also for the significance of contemporary cultural, political, and economic developments.  Graduate and undergraduate students from a range of universities and colleges are presenting research papers, work in progress, and service projects dealing with South Asia at the South Asian Media and Cultural Studies Conference 2017.
Please feel free to share this information with others. Contact Steve McDowell at steve.mcdowell@cci.fsu.edu if you have any questions, or call at 850-644-2276.
February 20, 2017
Dear Religion Students and friends,
It is with a heavy heart that I share the news that our beloved colleague and friend Dr. Kathleen Erndl passed away yesterday. We will miss her wit, her brilliance, and her kindness.
I have no information at this point about the arrangements, but I will pass those along as I hear about them.
Warmly,
Aline Kalbian
(posted by Susan Stetson)
Obituary:
http://culleys-meadowwood-riggins.tributes.com/dignitymemorial/obituary/Kathleen-Erndl-104491119
Hinduism Film Festival, Spring 2017
Greetings from the Dept. of English and Comparative Literature, Central University of Kerala, Kasaragod !
Kindly find the attached Call for Papers of the International Symposium on 21st Century Indian Political Documentary Films going to be held from 14th to 16th February, 2017.
Doc Film International Symposium-Central University of Kerala
You are requested to send the Title and abstract of your talk/paper by 15 January 2017 to docuindiasympo@gmail.com.
Sorry for cross posting, if any.
Requesting your participation and cooperation.
Best,
Dr. Vellikkeel Raghavan
(Coordinator)
Dept. of English and Comparative Literature
Central University of Kerala
Vidyanagar Campus, Post Vidyanagar
Kasaragod Dist., India, PIN 671 123
Alternative Email: vellikkeelraghavan@gmail.com
International Communication Association Preconference
Tryst with Democracy: 70 Years of Media in Independent India – Successes, Challenges, Interventions
CFP ICA 2017 Pre-Conference -Indian media and 70 years of independence
Venue: University of California, San Diego
Date: Thursday, May 25, 2017, 9 am – 3.30 pm
Deadline for submissions: February 10, 2017, to roys@sfasu.edu
Organizers:
Sudeshna Roy (Stephen F. Austin State University, USA)
Daya Thussu (University of Westminster, UK)
Vipul Mudgal (Common Cause, India)

"Education, Community Participation, & Women Empowerment in a Rural Pakistani Muslim Community"
Dr. Ayesha Khurshid,  Education Leadership and Policy Studies
Thursday, October 6th, 2:00 – 3:15 pm, G103 Stone Building, FSU
In contemporary times, empowering individuals, especially women, and communities as the primary agents of development has become the cornerstone of international development discourse. This intense preoccupation with empowerment, however, has been criticized by some development and feminist scholars for expecting individual actors to become self-reliant, instead of addressing the structural issues of inequality. Instead of approaching development and empowerment paradigms as solely "good" or "bad," this talk examines how these paradigms are approached, translated, and contested in day-to-day lives of the subjects of these paradigms. Using ethnographic data, this talk highlights how three sets of actors involved in a transnational women's education project – a development organization, female teachers, and male community members in Pakistan – differentially approached empowerment. This examination of the competing understandings of development and empowerment reveals the need to pay attention to different forms of inequalities that exist in different contexts as well as the need to embrace the unevenness of development and empowerment processes in these contexts.
Here's a Fall 2016 course for any interested graduate students and advanced undergrads.  Students will do a project, which can certainly be in the area of media communication.
REL4359-4   RLG5354-4   Topics Asian Rel: Pop Culture & South Asian Religions           Dr. Kathleen Erndl
This course explores popular culture in religion and religion in popular culture focusing on case studies of Hinduism, Islam, and Tibetan Buddhism in exile in interaction with cultural artifacts from the visual arts, music, film, comic books, popular fiction, and the Internet.  Prerequisite for undergraduates: At least one course on religion or history of South Asia.  No prerequisite for graduate students.
Kathleen M Erndl, Associate Professor of Religion, Florida State University, Tallahassee, FL 32306-1520, kerndl@fsu.edu
Film Screenings/Spring, 2016, Prof. Kathleen Erndl
Tuesdays at 6:30 PM in Dodd Hall Aud.
REL 3333 Ramayana/ REL 4359/RLG 5354 Banned Books in South Asia
All students are welcome to attend all films; bring your friends.
1)  Feb. 2      Lajja (Shame), 2001, dir. Rajkumar Santoshi, 202 min., Hindi (Related to Ramayana, not Nasrin's book of the same name).
2)  Feb. 9.   Swades (Our Own Country), 2004, dir. Ashutosh Gowariker, 194 min. Hindi.
3) Feb. 16.  Water, 2004, dir. Deepa Mehta, 114 min., Hindi.
4) Feb. 23   Raavan, 2010, dir. Mani Ratnam, 139 min., Hindi.
5)  Mar. 1    Fire, 1996, dir. Deepa Mehta, 108 min., English.
No film Mar. 8–Spring Break
6) Mar. 15.   Ram Teri Ganga Maili, 1985, dir. Raj Kapoor, 178 min., Hindi.  (Sanskrit students: This is a retelling of Sakuntala.)
7) Mar. 22.   Black Friday, 2004/2007, dir. Anurag Kashyap, 167 min. Hindi/Urdu.
8) Mar.  29  Amu, 2005, dir.  Shonali Bose, 98 min.  English (subject to availability.)
9) Apr. 5.   Nine Hours to Rama, 1963, dir. Mark Robson, 122 min., English.
10) Apr. 12 open
11) Apr. 19 open
South Asian Media and Cultural Studies Conference, January 21-23, 2016
We invite graduate and undergraduate students to submit proposals for papers and presentations for the South Asian Media and Cultural Studies Conference, to be held on January 21-23, 2016, at the Center for Global and Multicultural Engagement at Florida State University, Tallahassee, Florida.  More information is at this link and the link at the top of this page.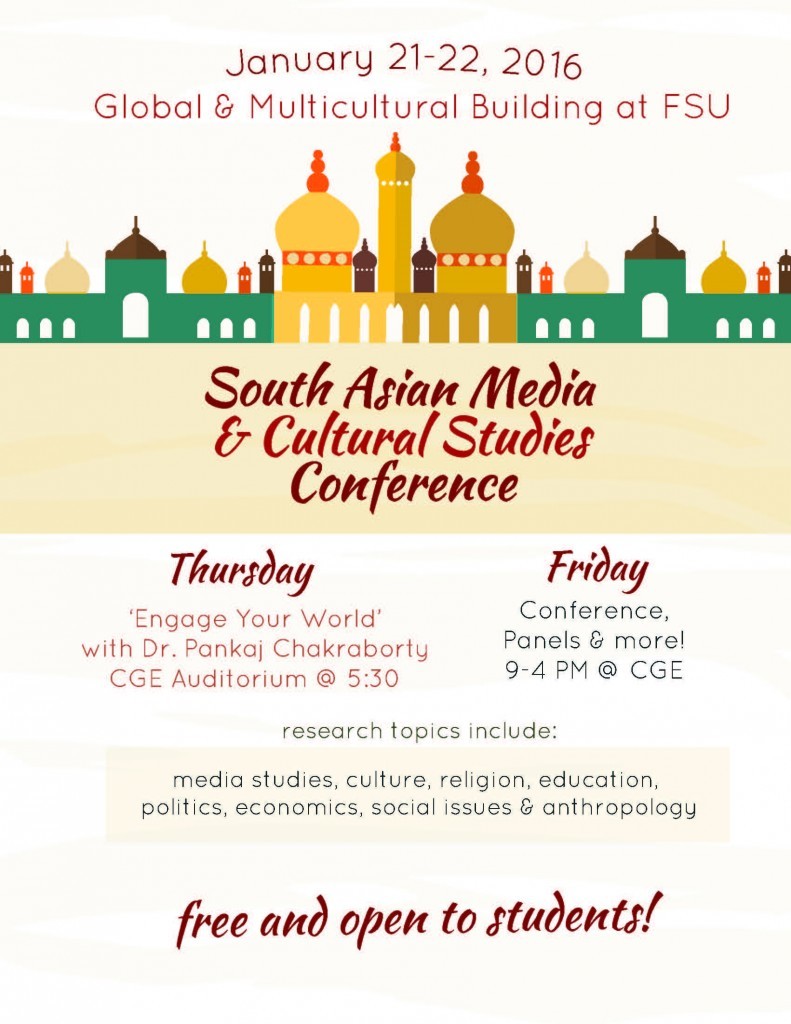 Engage Your World Series, Guest Presentation by Dr. Pankaj Chakraborty, "Prospects for Peace and Conflict in South Asia."

Thursday, January 21, 2016, 5:30 pm, Center for Global Engagement, Florida State University.
This is the opening session of the South Asian Media and Cultural Studies 2016 conference.  This event is also sponsored by the Fulbright Outreach Lecturing Fund, which helped support Dr. Chakraborty's visit.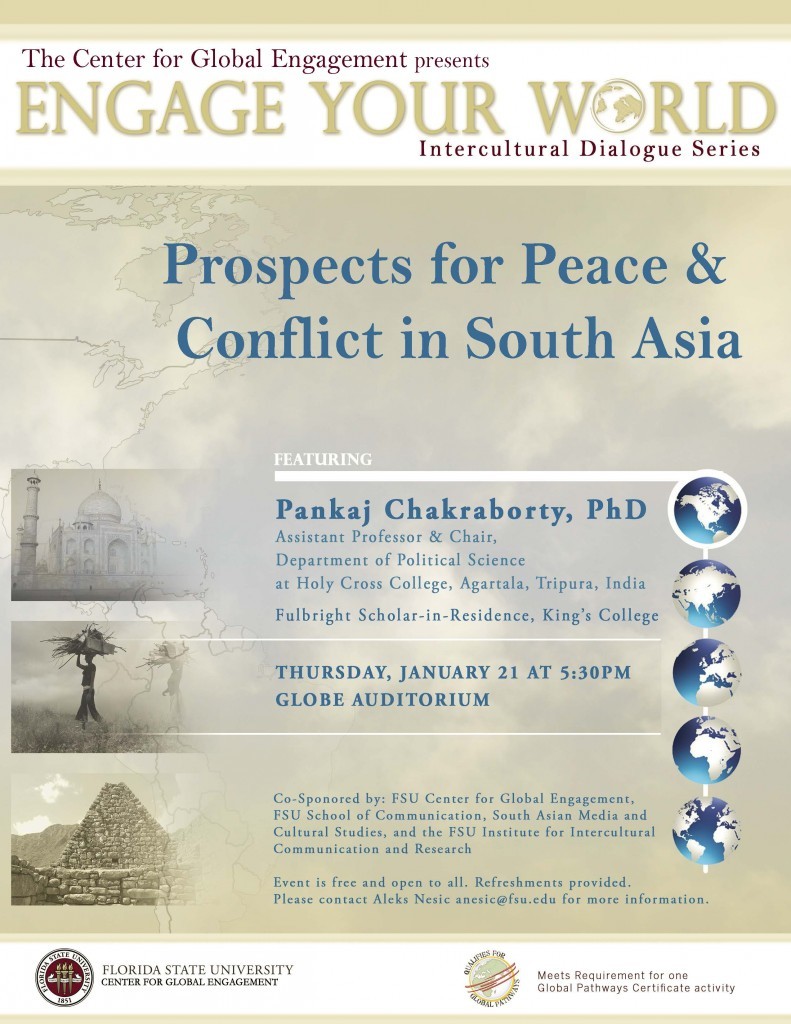 "Utilizing University Engagement," FSU Headlines Radio story featuring Omar Ismail and Rohan Samarajiva
Special Guest Presentation: "Information lives of the poor: Fighting poverty with technology"
Dr. Rohan Samarajiva, LIRNEasia, Sri Lanka
Thursday, January 7, 2016, 3:30-4:30 pm
University Center Building D, Room 1103, Florida State University
Rohan Samarajiva is founding Chair of LIRNEasia, an ICT policy and regulation think tank active across emerging Asia. He was CEO from 2004 to end 2012. His most recent co-authored book (2013) is Information lives of the poor: Fighting poverty with technology, published in English, French, Myanmar and Spanish. Samarajiva was Team Leader at the Sri Lanka Ministry for Economic Reform, Science and Technology (2002-04) responsible for infrastructure reforms, including participation in the design of the USD 83 million e Sri Lanka Initiative. He was Director General of Telecommunications in Sri Lanka (1998-99), a founder director of the ICT Agency of Sri Lanka (2003-05), Honorary Professor at the University of Moratuwa in Sri Lanka (2003-04), Visiting Professor of Economics of Infrastructures at the Delft University of Technology in the Netherlands (2000-03) and Associate Professor of Communication and Public Policy at the Ohio State University in the US (1987-2000). He serves as Senior Advisor to Sarvodaya (Sri Lanka's largest community based organization) on ICT matters. Samarajiva is a Board Member of Communication Policy Research south, an initiative to identify and foster policy intellectuals in emerging Africa and Asia.
More about Dr. Samarajiva at: at http://lirneasia.net/about/profiles/rohan-samarajiva/ E-book: http://idl-bnc.idrc.ca/dspace/bitstream/10625/52413/1/IDL-52413.pdf
This visit is sponsored by the John H. Phipps Fund of the FSU Foundation, the FSU South Asian Media and Cultural Studies research program, and the FSU Institute for Intercultural Communication and Research. Please contact Steve McDowell at steve.mcdowell@cci.fsu.edu or 850-644-2276 if you have any questions.
Visit by journalism faculty members from Pakistan
On November 8-10, 2015 we hosted Mr. Ali Inram (campus radio manager, University of Peshawar Campus Radio) and Mr. Bakht Zaman Yousafzai (executive producer/news anchor/teacher, University of Peshawar Campus Radio) for a visit to Tallahassee and Florida State University. They were visiting a number of journalism and communication programs in the United States. Our guests were also accompanied and hosted by Mike Kiel, U.S. Department of State (retired). As part of the visit they met with students and faculty, attended one class, prepared stories for their station, and visited local radio and television stations (WCTV, WFSU, WVFS). They also visited DOMI Station, an entrepreneurial start-up incubator, and attended the FSU Student Veteran Film Festival's showing of The Hornet's Nest.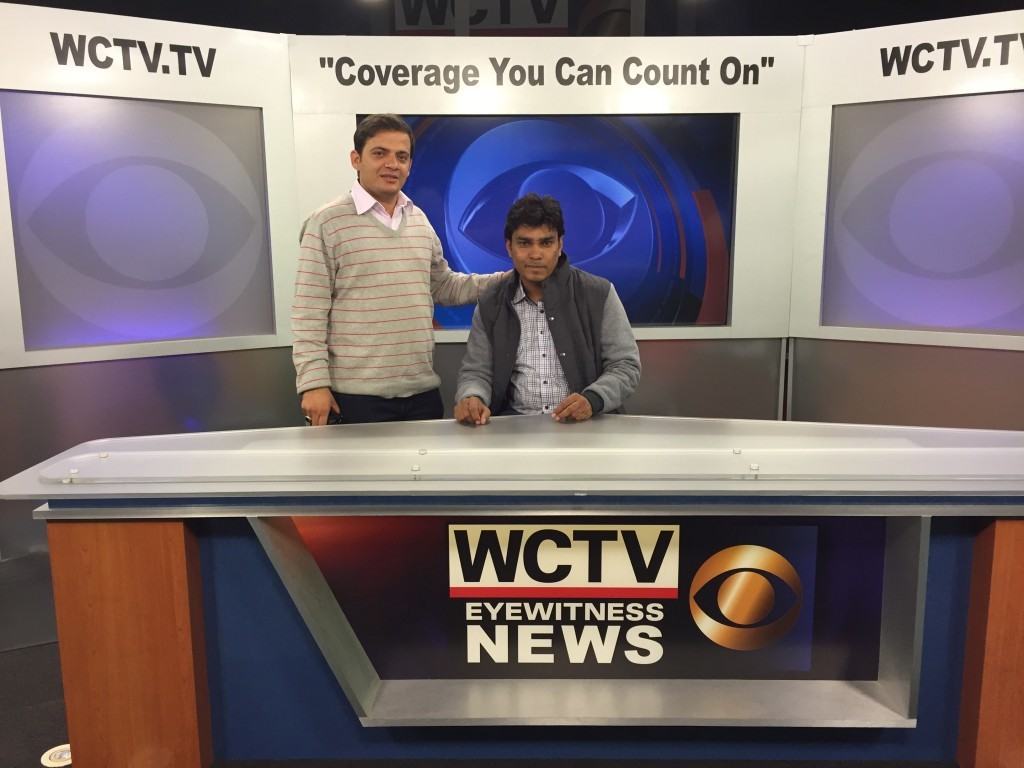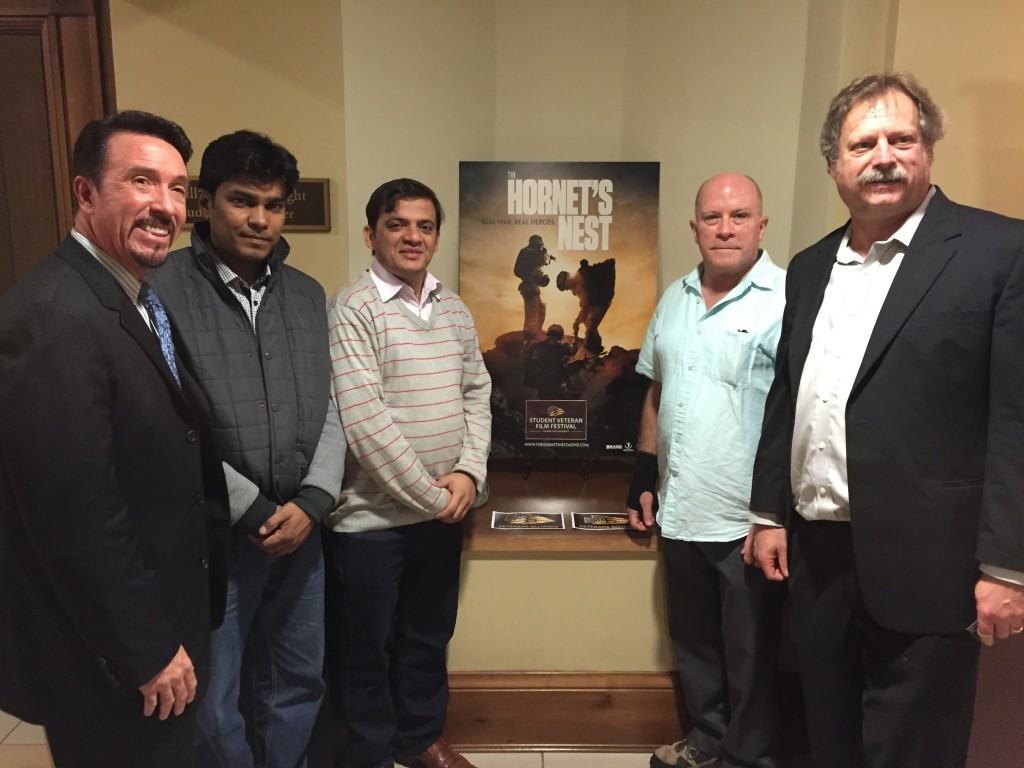 From left to right:  The Hornet's Nest" co-director David Salzberg, Bakht Zaman Yousafzai,  Ali Inram,  Bob Brooks, Stephen McDowell
Doctoral Candidate Mariam Shaikh Earns First Place for Emergency Communication Research
Mariam Shaikh's research got her first place at the International Association of Emergency Managers (IAEM) 63rd Annual Conference in Las Vegas, NV this past October. Full Story
Student Ashley Tressel Earns Award for Paper, "Media and Drone Strikes: Understanding Newspaper Tutorials"
In October 2015, Media & Communication Studies student Ashley Tressel received the Competitive Communication Scholarship Student Top Paper Undergraduate from the Florida Communication Association (FCA) for her paper, "Media and Drone Strikes: Understanding Newspaper Tutorials."  (Full story)
Special Screening for the week of 9/11 of My Name is Khan
You are invited to attend, as part of my Bollywood course, a special screening for the week of 9/11 of My Name is Khan (dir. Karan Johar, 2010, in Hindi, Urdu, and English with English subtitles) on Tues., Sept. 8 at 6:30 PM in Dodd Hall Auditorium.
Dr. Kathleen M. Erndl
Department of Religion
Florida State University
Tallahassee, FL 32306-1520
kerndl@fsu.edu
kehte hai, ke agar kisi bhi cheez ko dil se chaho to puri ki puri kaynaat tumhe use milaane ki koshish mein lag jaati hai.
Making News in Global India: Media, Publics, Politics
Talk by Dr. Sahana Udupa, Max Planck Institute for the Study of Religious and Ethnic Diversity, Germany
Tuesday, September 29, 2015, 5:30-7:00 pm, part of the Engage Your World series
Auditorium, Center for Global and Multicultural Engagement, Florida State University
Dr. Sahana Udupa is a social anthropologist and communication studies scholar researching political cultures of media, religion and urban transformation. She is Research Fellow at the Max Planck Institute for the Study of Religious and Ethnic Diversity, Germany. Her first book, Making News in Global India: Media, Publics, Politics (Cambridge University Press) is a critical reading of news cultures and urban politics in post-liberalization India. The second book (in preparation) explores the political dynamics of social media cultures in urban India and among the diaspora in Europe, to draw attention to the flux of new voices that articulate the aspiration of "New India". She has published in premier journals including American Ethnologist and Media, Culture and Society. She was a visiting scholar and currently an affiliate at the Centre for Global Communication Studies, Annenberg School for Communication, University of Pennsylvania.
Visit sponsored by the FSU Center for Global Engagement, FSU School of Communication, South Asian Media and Cultural Studies, and the FSU Institute for Intercultural Communication and Research.
Omar Ismail's project featured in FSU Student Profiles
"It is Ismail's dream to be a social entrepreneur, and he's getting that opportunity. By working with the nongovernmental organization mPower Social Enterprises Ltd., he will receive firsthand experience researching the use of information and communication technologies to assist agricultural workers in rural Bangladesh. In order to embark on this research, however, Ismail needed to secure funding, and so he applied for the Public Research Fellowship (PSRF), which awards undergraduates fellowships to engage in research that directly benefits community-based organizations, programs or groups. Ismail was selected as one of those undergraduates who would receive such funding."
More at : https://www.fsu.edu/profiles/5/
The Making of Modern India: FSU Study Abroad program, May-June 2016
Dr. Kathleen Erndl will lead a new India course in New Delhi in May 15 to June 24, 2016 as part of Florida State University's International Programs offerings.  You can find out more about the program, and obtain registration information, at:  http://www.international.fsu.edu/Types/College/India/Default.aspx.
India is the largest democracy and also one of the oldest civilizations in the world. Like its national tree, the Banyan, India has multiple, intertwining roots and expansive branches. New Delhi, India's capital city, will be a classroom for investigating the ancient roots and modern branches of India's diverse cultures. With the guidance of FSU faculty and on-site experts, students will explore the origins, continuities, and transformations of India's religions, society, politics, media, and the arts. This intensive, interdisciplinary program is ideally suited to students with a wide variety of general and specific interests.
REBUILDING NEPAL: A Nepali Dinner for Earthquake Relief
Please join the Tallahassee Nepali community and others in sharing a traditional Nepali meal, and in raising funds to assist in the rebuilding of Nepal's earthquake destroyed villages.
When: July 18th, 2015, anytime between 5 and 9 PM
Where: United Church in Tallahassee, 1834 Mahan Dr., Tallahassee, FL 32308
Donation: The suggested minimum donation is $25 per person at the door. 100% of donated funds will go to earthquake relief. For additional information and to indicate that you will be attending, please see: https://www.facebook.com/events/1599486986998846/
MCS/ICT Undergraduate Omar Ismail receives Public Service Research Fellowship Grant for study in Bangladesh  (full story)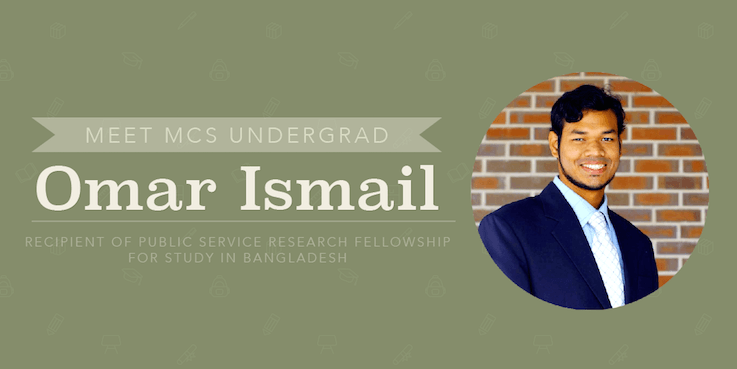 June 2015 update
We have had a very busy year, and have been able to connect with many students and faculty interested in South Asian media and cultural studies at FSU and elsewhere.  Conference papers, articles and presentations from July 2014 to June 2015 can be found at the link above "Research in South Asian Media and Cultural Studies at FSU."   Information about the Jan 22-23, 2015 South Asian Media and Cultural Studies Conference can also be found at the link above.
MCS Student Brendan Rempert travels to India for research
Posted by Kate Mullen on April 8, 2015
During the Undergraduate Research Symposium, undergraduate Media & Communication Studies student Brendan Rempert presented his poster, Community Perspective on the Impact of Voluntourism in Pamohi Village.  Full Story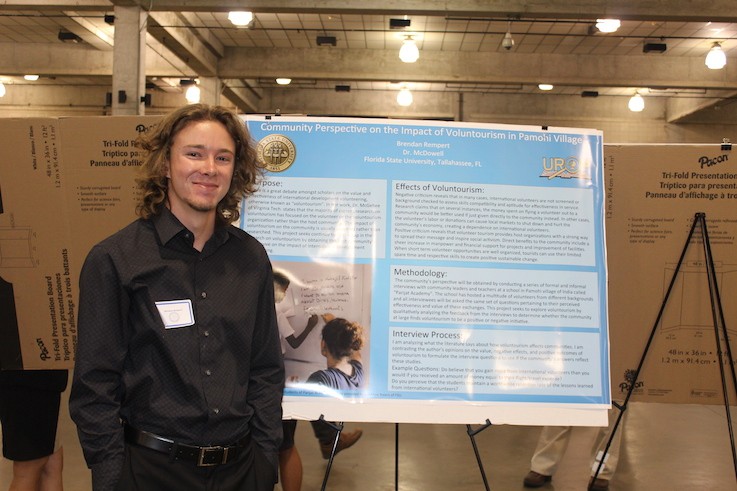 September 2014 update:
You can find more conference papers, articles and presentations from July 2013 to June 2014 on the link above "Research in South Asian Media Studies at FSU".  The page, "Visiting Speakers, Guests,  and Speakers" also lists some interesting speakers we have had over the past years, including Fall 2014, and some presentations by FSU faculty and students.
March 2013 update
Here's an update on some of the activities of graduate students and faculty affiliated with the South Asian Media Studies area at Florida State University.  We have had an active year, and the numerous papers and presentations by graduate students and faculty are listed below.
We are  looking forward to the meeting, "New Media, Old Media, Social Media: Changing South Asian Communications Scholarship," a preconference for the 2013 meetings of the International Communication Association,  to be held  on June 16-17,  Khalili Lecture Theatre, School of Oriental and African Studies, University of London.  Stephen McDowell and Azmat Rasul are part of the organizing committee for this preconference.  More information about the meeting is at: http://www.icahdq.org/conf/2013/confdescriptions.asp, and registration information is at: http://www.icahdq.org/.  The workshop is co-sponsored by the ICA Communication Law and Policy Division, the University of Pennsylvania, Jamia Millia Islamia, Shiv Nadar University, the School of Oriental and African Studies at the University of London, and Florida State University.
Dr. Shruti Nair completed and defended her doctoral dissertation in Fall 2012, entitled "ICTs and Economic Empowerment of Women: Evaluation of SEWA's ICT Activities," and graduated in December.  She has just accepted a faculty position at S.P. Jain Institute of Management and Research (SPJIMR) in Mumbai, one of the premier business schools in India.
Mariliis Vahe, & Khawaja Zain-ul-abdin received the Top Student Research paper award for, . "Breaking the Silence: Acceptability and impact of GirlTalk, an online health information source for young Pakistani females." accepted for the 2nd biennial D.C. Health Communication Conference (DCHC). 28-30 March 2013, Fairfax, Virginia.
Dr. Ayesha Khurshid joined FSU in 2012 as Assistant Professor of Sociocultural and International Studies of Education in the College of Education. She received her doctorate in Education from the University of Wisconsin-Madison, and teaches courses on International Development Education, Anthropology of Education, and Multicultural Education.  Dr. Khurshid conducts interdisciplinary research on globalization, international development, and women's education, and focuses on international education as a site that produces gendered citizenship in different contexts. She also studies how global policies to educate and empower women in developing and Muslim countries are translated into local contexts.