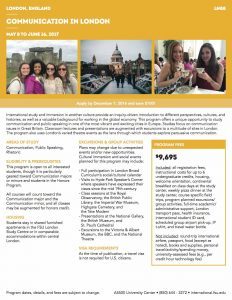 The School of Communication hosts the "Communication in London" summer program the first six weeks of each summer (Summer Session B). The program caters to majors, minors, honors and general studies students. Those applying to one of the majors in the College of Communication & Information are also welcome to apply for the London program.
All Communication classes in London count toward the minor and may be augmented for honors credit, and speech classes offered in London meet the University's oral communication competency requirement. Students may also enroll in broad curriculum courses, participate in directed individual studies, perform community service or complete an internship.
For more information about the program visit the IP's Communication in London page.
To apply directly click here.
We look forward to hearing from you! — please contact us with questions about classes, travel, funding, or anything else, and please help us pass the word to friends that may be interested!
Mr. Mark Zeigler, mzeigler@fsu.edu
Dr. Misha Laurents, laurents@fsu.edu
Dr. Donna Nudd, dmnudd@fsu.edu