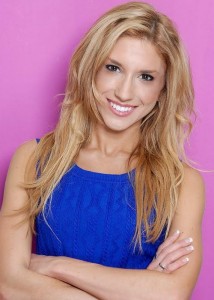 Krystin Goodwin transferred to Florida State University's School of Communication because she believed attending an established university with a national reputation would open doors as she pursued her career goals.
Goodwin was right.
While she was raised in Northern Virginia and originally attended a small college not far from home, Goodwin knew networking would be an important part of her education down the road, so she transferred to Florida State after her sophomore year.
"I knew the opportunities available at FSU – the internships and contacts available at a University that was so established," Goodwin said.  "I made the leap even though it was really hard to transfer. I loved it."
After graduating with a with a Bachelor's in Mass Media in 2008, Goodwin landed a position as a reporter with WCTV, Tallahassee's local CBS affiliate.
"I had so many opportunities provided through FSU," Goodwin said.  "I met the woman I ended up working for at WCTV through FSU because she was also teaching there.  She liked my writing and hired me for my first job."
While she only remained at WCTV for nine months, Goodwin's tenure with the station was invaluable.
"I was an on-camera reporter, but I was like a one-man band because I was also a videographer and an editor," Goodwin said.  "On the weekends, I anchored the entertainment news show.  It was a lot of fun, but it was really tough.  I learned a lot."
Goodwin, however, had been prepared for her first gig because of the educational foundation the School of Communication provided.
"It was very hands-on and set the stage for a first job because you were required to do your own news packages," Goodwin said. "The turnaround time may have been different but it definitely gave you the tools you needed for each piece of equipment."
In the spring of 2009, Goodwin headed to New York City to work as a red carpet reporter and TV host for the Drama Desk Awards, a premiere awards show similar to the Tony Awards.
A short time later, Goodwin moved to Los Angeles to be on-air talent for NBC Universal's "Attack of the Show."  She also held positions with a post-production company and as a line producer during her time in California.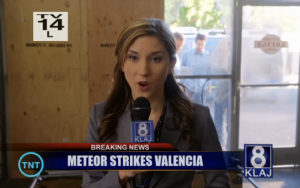 Goodwin is currently working in New York for Zazoom, writing, editing and hosting syndicated news packages for media outlets such as USA Today, Yahoo, Aolon, & dailymotion.  She has also appeared as on-air talent in television shows such as: "Orange is the New Black" (season 2), "The Following" on FOX and "Franklin & Bash" on TNT.
While Goodwin has only been out of school a relatively short time, she advises students to experiment with different careers you could pursue during their collegiate experience.
"There are so many careers within communications you can go into – see what you enjoy the most because you have all the tools, resources and faculty to delve into it," Goodwin said.
Goodwin has not only worn different hats in the communications field, she has also ventured into the sky as an amateur aviator, who is aiming to become an FAA-certified pilot.  She was recently interviewed by a spokesperson for the Santa Monica Airport about her passion for flying.
Are you interested in a career in media and communication studies or media production?  Learn more at comm.cci.fsu.edu.